Posts for: April, 2019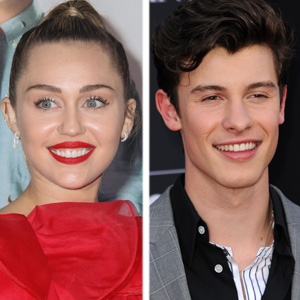 The 2019 Grammy Awards was a star-studded night packed with memorable performances. One standout came from the young Canadian singer Shawn Mendes, who sang a powerful duet of his hit song "In My Blood" with pop diva Miley Cyrus. But that duo's stellar smiles weren't always quite as camera-ready as they looked that night.
"I had braces for four and a half years," Mendes told an interviewer not long ago. "There's lots and lots and lots of photo evidence, I'm sure you can pull up a few." (In fact, finding one is as easy as searching "Sean Mendes braces.")
Wearing braces puts Mendes in good company: It's estimated that over 4 million people in the U.S. alone wear braces in a typical year—and about a quarter of them are adults! (And by the way: When she was a teenager, Miley Cyrus had braces, too!)
Today, there are a number of alternatives to traditional metal braces, such as tooth-colored braces, clear plastic aligners, and invisible lingual braces (the kind Cyrus wore). However, regular metal braces remain the most common choice for orthodontic treatment. They are often the most economical option, and can be used to treat a wide variety of bite problems (which dentists call malocclusions).
Having straighter teeth can boost your self-confidence—along with helping you bite, breathe, chew, and even speak more effectively. Plus, teeth that are in good alignment and have adequate space in between are easier to clean; this can help you keep your mouth free of gum disease and tooth decay for years to come.
Many people think getting braces is something that happens in adolescence—but as long as your mouth is otherwise healthy, there's no upper age limit for orthodontic treatment. In fact, many celebrities—like Lauren Hutton, Tom Cruise and Faith Hill—got braces as adults. But if traditional braces aren't a good fit with your self-image, it's possible that one of the less noticeable options, such as lingual braces or clear aligners, could work for you.
What's the first step to getting straighter teeth? Come in to the office for an evaluation! We will give you a complete oral examination to find out if there are any problems (like gum disease or tooth decay) that could interfere with orthodontic treatment. Then we will determine exactly how your teeth should be re-positioned to achieve a better smile, and recommend one or more options to get you there.
If you have questions about orthodontic treatment, please contact our office or schedule a consultation. You can read more in the Dear Doctor magazine articles "The Magic of Orthodontics" and "Lingual Braces: A Truly Invisible Way to Straighten Teeth."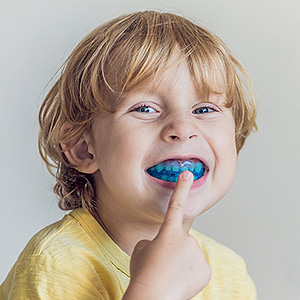 April brings the perfect weather to get outside and play. Fittingly, April is also National Facial Protection Month. Whether you prefer softball or basketball, skateboarding or ultimate frisbee, don't forget your most important piece of equipment: a mouthguard to protect your face and your smile!
In an instant, a blow to the mouth can cause a dental injury that is painful to endure and expensive to treat. In just about any sporting activity, your mouth could come into contact with a piece of equipment, another person or the ground. That's why the American Dental Association and the Academy for Sports Dentistry recommend using a mouthguard when participating in any of over 30 activities, including some that aren't typically considered contact sports, like volleyball and bike riding.
Common sense, observation and scientific research support the use of mouthguards during sporting activities—but are the ones you get from your dentist really any better than the kind you can grab off the shelf at a sporting goods store or drugstore? The answer is yes!
In a 2018 experiment, researchers created a model of the human head to test how direct impact affects the teeth, jaws and skull. They compared the effects of impact when using no mouthguard, when using a custom-made mouthguard available from the dentist, and when using a stock mouthguard. They also tested mouthguards of different thicknesses. The results? The experimenters determined that any mouthguard is better than no mouthguard and that custom mouthguards available from the dental office are more effective than off-the-shelf mouthguards in protecting teeth, jaws and skull from impact. They also found that the thicker the mouthguard, the better the protection.
Although custom mouthguards are more expensive than the kind you can buy at the corner store, the difference in protection, durability, comfort and fit is well worth the investment. We consider your (or your child's) individual needs, take a precise model of your mouth and provide you with a custom-fit mouthguard of the highest quality material.
Don't ruin your game. A mouthguard can go a long way in protecting your teeth and mouth from injury. If you would like more information about a sports mouthguard, please contact us or schedule an appointment for a consultation. To learn more, read the Dear Doctor magazine articles "Mouthguards" and "An Introduction to Sports Injuries & Dentistry."