Posts for: May, 2019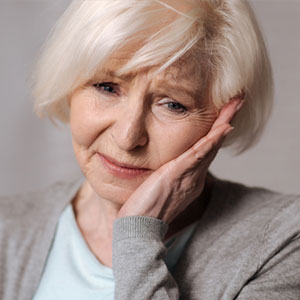 Every May, the National Fibromyalgia & Chronic Pain Association asks people around the world to spread awareness of fibromyalgia and other chronic pain conditions. Anyone with fibromyalgia and its associated joint and muscle pain knows all too well how chronic pain can disrupt everyday life. And as we see frequently in the dental office, people contending with the jaw pain and dysfunction associated with a temporomandibular joint disorder (TMD) can equally relate.
But here's the kicker—if you've been diagnosed with either TMD or fibromyalgia, there's a good chance you're also dealing with both conditions. For example, in one recent survey of over a thousand TMD patients, two-thirds reported also having fibromyalgia or similar kinds of health issues. Researchers are looking intently at possible connections between TMD and fibromyalgia since understanding any potential link between the two might open the door to new ways of treatment.
Fibromyalgia patients experience frequent muscle spasms and fatigue throughout their bodies, coupled with other problems like sleeplessness and memory difficulties. Most researchers today believe it's caused by a malfunction within the central nervous system (CNS) to process pain. Those working with TMD research are also considering whether the same type of malfunction contributes to jaw joint pain and dysfunction.
TMD is an umbrella term for various disorders involving the jaw joints and associated muscles. When you come to the dental office, it is important that we know about any TMD pain you may be experiencing because this can affect your dental visits. For example, people with TMD may have trouble holding their mouth open for an extended period of time, so we can adjust dental exams and treatments accordingly. Also, we will want to look for underlying dental conditions that may have contributed to your TMD.
If you're experiencing both TMD and fibromyalgia symptoms, be sure you let us as well as your rheumatologist know the various symptoms you're experiencing with each condition, the treatments you're undergoing and the medications you're taking.
For TMD in particular, here are a few things you can do to reduce its impact on your daily life:
Avoid foods that require heavy chewing or jaw widening;
Use thermal therapies like warm compresses or ice packs to ease jaw stiffness and pain;
Practice relaxation techniques to reduce stress in your life;
Ask about muscle relaxants or other medications that might help.
You may find that some of these practices, particularly stress reduction, are also helpful in managing fibromyalgia. And if there is a deeper connection between TMD and fibromyalgia, unraveling the mystery could hopefully lead to even greater relief for both.
If you would like more information about managing your symptoms, please contact us or schedule an appointment for a consultation. To learn more, read the Dear Doctor magazine articles "Chronic Jaw Pain and Associated Conditions" and "Fibromyalgia and Temporomandibular Disorders."
May is National Save Your Tooth Month, and tooth decay is a leading cause of lost teeth. It all begins with oral bacteria growing rapidly in built-up deposits of dental plaque, and in turn producing high levels of acid. At these levels, acid can erode the minerals in tooth enamel to create holes ("cavities") that allow bacteria to enter the tooth and infect it.
If at all possible, we need to try to stop tooth decay early by disinfecting and filling these cavities. If not, decay can spread through the teeth to the underlying nerve (pulp) tissue, following passageways known as root canals. If this happens, the chances for saving the tooth are extremely low.
But if the decay does reach the tooth's innermost layer—the pulp—filling the cavities won't be enough. Decay this advanced requires a procedure known as root canal therapy, or a root canal for short.
If you winced a little, it's understandable: Root canals have gained an unfair reputation as an unpleasant experience. In reality, a root canal performed by a skilled dentist or endodontist (a specialist in root canals) isn't painful. In fact, if you come in with a painful tooth, you're very likely to leave after the procedure without any pain.
Root canal procedures can vary depending on the type of tooth and the intricacy of its root canal network. Essentially, though, we remove the diseased pulp tissue, and then clean and fill the empty pulp chamber and root canals. This stops the infection and, along with sealing and crowning the tooth, helps prevent a future re-infection.
How do you know if you need a root canal? You may find out from us if we discover advanced decay during a checkup or cleaning appointment. But you may encounter signs yourself like a throbbing toothache, pain during and after eating and drinking, or gum tenderness around a tooth. These are all possible indications of tooth decay.
If you experience any of these signs, you should see us as soon as possible for an examination. And don't cancel your appointment if the pain goes away—this could simply mean the nerves in the pulp have died and are no longer transmitting pain signals. The infection, though, could still be there and continuing its rampage beyond the tooth and into the surrounding bone tissue.
Root canal therapy may not seem glamorous, but it's an excellent option for a diseased tooth that would otherwise have to be removed. A root canal could get rid of your pain and give your troubled tooth a new lease on life!
If you would like more information about treating advanced tooth decay, please contact us or schedule an appointment for a consultation. To learn more, read the Dear Doctor magazine articles "Common Concerns About Root Canal Treatment" and "Root Canal Treatment: What You Need to Know."