Posts for tag: dental implants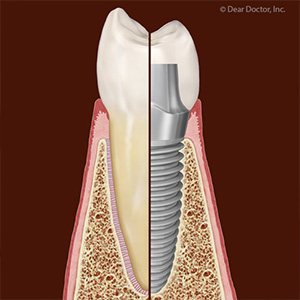 There are several reasons why dental implants are so popular. Perhaps the most important, though, is their longevity: if maintained properly implants can last for decades. However, they're not indestructible—certain mouth conditions could put them at risk for early failure. But if you address emerging problems early, you may be able to prevent that unfortunate outcome.
Your implants may be in danger, for example, if you have a teeth grinding or clenching habit. This occurs when a person involuntarily and repeatedly bites down on their teeth when not chewing or speaking. Usually triggered in adults by high stress, teeth grinding can subject both natural teeth and implants to damaging levels of force. Over time this can cause bone loss around an implant and weaken their support. It could also cause a direct break in an implant.
But there are ways to stop or at least reduce the effects of teeth grinding. One effective way is a custom-made bite guard you wear while you sleep. Made of hard plastic, the guard prevents the teeth from making solid contact with each other, reducing the amount of force generated.
A more prominent problem is periodontal (gum) disease, a bacterial infection caused by built-up dental plaque on tooth surfaces. This can trigger inflammation, a normal defensive response that when it persists for an extended period of time can damage tissues and supporting bone. It can also cause a specific form of gum disease related to implants called peri-implantitis, in which the tissues that support an implant become infected and weaken, leading eventually to possible implant failure.
If you have implants, then, you should brush and floss daily to prevent gum disease, as well as see your dentist at least every six months for cleanings and checkups. And if you notice anything like reddened, swollen or bleeding gums, see your dentist immediately. The sooner you undergo treatment, the better the outcome for your implants as well as your overall health.
Dental implants can give you years of great service and can prove to be well worth the cost. But you'll have to stay on your guard against gum disease and other mouth conditions that could endanger them down the road.
If you would like more information on dental implants, please contact us or schedule an appointment for a consultation. You can also learn more about this topic by reading the Dear Doctor magazine article "Dental Implants: A Tooth-Replacement Method that Rarely Fails."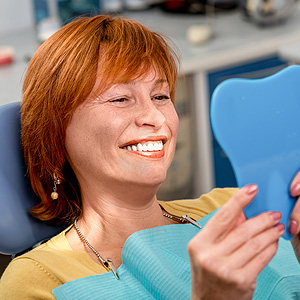 There's a lot to like about dental implants for replacing missing teeth. Not only are they life-like, but because they replace the root they also function much like a natural tooth. They also have another unique benefit: a track record for long-lasting durability. It's estimated more than 95% of implants survive at least ten years, with a potential longevity of more than 40 years.
But even with this impressive record, we should still look at the few that didn't and determine the reasons why they failed. We'll soon find that a great number of those reasons will have to do with both oral and general health.
For example, implants rely on adequate bone structure for support. Over time bone cells grow and adhere to the implant's titanium surface to create the durable hold responsible for their longevity. But if conditions like periodontal (gum) disease have damaged the bone, there might not be enough to support an implant.
We may be able to address this inadequacy at the outset with a bone graft to encourage growth, gaining enough perhaps to eventually support an implant. But if bone loss is too extensive, it may be necessary to opt for a different type of restoration.
Slower healing conditions caused by diseases like diabetes, osteoporosis or compromised immune systems can also impact implant success. If healing is impeded after placement surgery the implant may not integrate well with the bone. An infection that existed before surgery or resulted afterward could also have much the same effect.
Oral diseases, especially gum disease, can contribute to later implant failures. Although the implant's materials won't be affected by the infection, the surrounding gum tissues and bone can. An infection can quickly develop into a condition known as peri-implantitis that can weaken these supporting structures and cause the implant to loosen and give way. That's why prompt treatment of gum disease is vital for an affected implant.
The bottom line: maintaining good oral and general health, or improving it, can help keep your implant out of the failure column. Perform daily brushing and flossing (even after you receive your implant) and see your dentist regularly to help stop dental disease. Don't delay treatment for gum disease or other dental conditions. And seek medical care to bring any systemic diseases like diabetes under control.
If you would like more information on dental implants, please contact us or schedule an appointment for a consultation. You can also learn more about this topic by reading the Dear Doctor magazine article "Dental Implants: A Tooth-Replacement Method that Rarely Fails."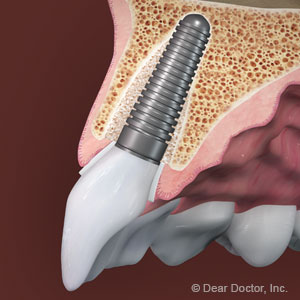 Dental implants are all the rage. And why not — not only are these tooth replacements life-like and highly functional, they have an amazing 95% ten-year success rate.
Some of that success is due to their unique design. Technically a root replacement, an implant's metal titanium post is surgically placed in the jawbone, where bone grows and adheres to it over time. This creates a strong connection that stands up well to the forces created by biting and chewing.
But there's more to their longevity than design. Success also depends on a careful, planned process that begins long before surgery.
It starts with a detailed oral examination to determine the best placement for the implant. Besides regular x-rays, we may also perform CT scans to create a three-dimensional view of your jaw. With this we can locate and avoid nerves, sinus cavities or other structures near the implant site.
The examination also helps us determine if you've experienced any bone loss, a normal occurrence after tooth loss. Implants require an adequate amount of bone to achieve the best position. A good position ensures future bone integration and the best appearance result.
The same attention to detail extends to the actual surgery to place the implant. We fashion the site to receive the implant by sequentially drilling larger tapered channels until we achieve the right size fit for the implant. During drilling we avoid overheating the bone, which could ultimately weaken and damage the implant's stability.
We'll also need to provide protection for the implant while it integrates with the bone. In most implantations, we do this by suturing the gum tissue over the implant. We take a different approach with a "Tooth in a Day" procedure where we attach a crown (the visible portion of the tooth) right after implant surgery. In this case we'll install a crown (which is actually temporary) that's a little shorter than the adjacent teeth. The natural teeth around it will absorb the forces produced while chewing and not the implant crown.
Focusing on these and other factors will greatly reduce the risk of implant failure. Paying careful attention to them helps ensure your new smile is a lasting one.
If you would like more information on dental implants to restore your smile, please contact us or schedule an appointment for a consultation. You can also learn more about this topic by reading the Dear Doctor magazine article "Dental Implants: A Tooth Replacement Method That Rarely Fails."