Posts for tag: pediatric dentistry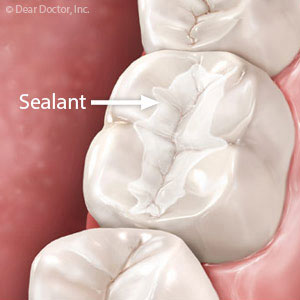 A baby's teeth begin coming in just a few months after birth—first one or two in the front, and then gradually the rest of them over the next couple of years. We often refer to these primary teeth as deciduous—just like trees of the same description that shed their leaves, a child's primary teeth will all be gone by around puberty.
It's easy to think of them as "minor league," while permanent teeth are the real superstars. But although they don't last long, primary teeth play a big role in a person's dental health well into their adult years.
Primary teeth serve two needs for a child: enabling them to eat, speak and smile in the present; but more importantly, helping to guide the developing permanent teeth to erupt properly in the future. Without them, permanent teeth can come in misaligned, affecting dental function and appearance and increasing future treatment costs.
That's why we consider protecting primary teeth from decay a necessity for the sake of future dental health. Decay poses a real threat for children, especially an aggressive form known as early childhood caries (ECC). ECC can quickly decimate primary teeth because of their thinner enamel.
There are ways you can help reduce the chances of ECC in your child's teeth. Don't allow them to drink throughout the day or to go to sleep at night with a bottle or "Sippy" cup filled with milk, formula, or even juice. These liquids can contain sugars and acids that erode enamel and accelerate decay. You should also avoid sharing eating utensils with a baby or even kissing them on the mouth to avoid the transfer of disease-causing bacteria.
And even before teeth appear, start cleaning their gums with a clean, wet cloth right after feeding. After teeth appear, begin brushing and flossing to reduce plaque, the main trigger for tooth decay. And you should also begin regular dental visits no later than their first birthday. Besides teeth cleanings and checkups for decay, your dentist has a number of measures like sealants or topical fluoride to protect at-risk teeth from disease.
Helping primary teeth survive to their full lifespan is an important goal in pediatric dentistry. It's the best strategy for having healthy permanent teeth and a bright dental health future.
If you would like more information on tooth decay in children, please contact us or schedule an appointment for a consultation. You can also learn more about this topic by reading the Dear Doctor magazine article "Do Babies Get Tooth Decay?"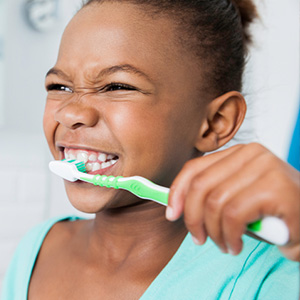 There's a potential threat lurking in your young child's mouth—tooth decay. This destructive disease can not only rob them of teeth now, it could also impact their dental health long into their adult years.
That's why we focus heavily on decay prevention measures even in primary ("baby") teeth, as well as early treatment should it still occur. It's a straightforward treatment strategy: minimize the factors that contribute to disease and maximize those that protect against it.
We can represent the disease-causing factors with the acronym BAD. Bad bacteria top the list: they produce oral acid that erodes tooth enamel. Couple that with an Absence of healthy saliva function, necessary for acid neutralization, and you have the potential opening for tooth decay. Poor Dietary habits that include too much added sugar (a prime food source for bacteria) and acidic foods help fuel the decay process.
But there are also SAFE factors that can help counteract the BAD. Promoting better Saliva function helps control acid levels, while Sealants applied to chewing surfaces strengthen these vulnerable areas against decay. We can prescribe Antimicrobials in the form of mouth rinses that reduce abnormally high bacterial concentrations. Fluoride applied directly to the enamel bolsters its mineral content. And an Effective diet high in nutrition and low in sugar or acidic foods rounds out our protective measures.
Promoting SAFE factors greatly reduces the risk of childhood tooth decay. To keep on track it's important to start regular, six-month dental visits beginning around your child's first birthday. These visits are the most important way to take advantage of prevention measures like sealants or topical fluoride, as well as keeping an eye out for any signs of decay.
And what you do at home is just as important. Besides providing a teeth-friendly diet, you should also brush and floss your child's teeth every day, teaching them to do it for themselves when they're old enough. Playing it "SAFE" with your child's dental health will help ensure your child's teeth stay decay-free.
If you would like more information on dental care for your child, please contact us or schedule an appointment for a consultation. You can also learn more about this topic by reading the Dear Doctor magazine article "Taking the Stress out of Dentistry for Kids."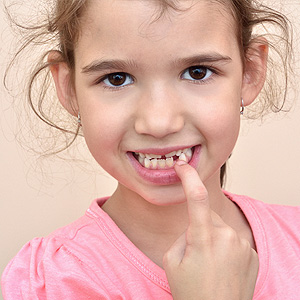 Watching your newborn develop into a toddler, then an elementary schooler, a teenager, and finally an adult is one of the most exciting and rewarding experiences there is. Throughout the years, you'll note the passing of many physical milestones — including changes that involve the coming and going of primary and permanent teeth. Here are some answers to frequently asked questions about children's dental development.
When will I see my baby's first tooth come in?
The two lower front teeth usually erupt (emerge from the gums) together, between the ages of 6 and 10 months. But your baby's teeth may come earlier or later. Some babies are even born with teeth! You will know the first tooth is about to come in if you see signs of teething, such as irritability and a lot of drooling. The last of the 20 baby teeth to come in are the 2-year molars, so named for the age at which they erupt.
When do kids start to lose their baby teeth?
Baby teeth are generally lost in the same order in which they appeared, starting with the lower front teeth around age 6. Children will continue to lose their primary teeth until around age 12.
What makes baby teeth fall out?
Pressure from the emerging permanent tooth below the gum will cause the roots of the baby tooth to break down or "resorb" little by little. As more of the root structure disappears, the primary tooth loses its anchorage in the jawbone and falls out.
When will I know if my child needs braces?
Bite problems (malocclusions) usually become apparent when a child has a mixture of primary and permanent teeth, around age 6-8. Certain malocclusions are easier to treat while a child's jaw is still growing, before puberty is reached. Using appliances designed for this purpose, orthodontists can actually influence the growth and development of a child's jaw — to make more room for crowded teeth, for example. We can discuss interceptive orthodontics more fully with you at your child's next appointment.
When do wisdom teeth come in and why do they cause problems?
Wisdom teeth (also called third molars) usually come in between the ages of 17 and 25. By that time, there may not be enough room in the jaw to accommodate them — or they may be positioned to come in at an angle instead of vertically. Either of these situations can cause them to push against the roots of a neighboring tooth and become trapped beneath the gum, which is known as impaction. An impacted wisdom tooth may lead to an infection or damage to adjacent healthy teeth. That it is why it is important for developing wisdom teeth to be monitored regularly at the dental office.
If you have additional questions about your child's dental development, please contact us or schedule a consultation. You can also learn more by reading the Dear Doctor magazine articles "Losing a Baby Tooth" and "The Importance of Baby Teeth."